ESTALIFE® PROEYE
Regular price
$70.50 SGD
Sale price
$70.50 SGD
Unit price
per
Sale
Sold out
Product Info

Estalife ProEye is specially formulated with natural ingredients and minerals to help replenish nutrients and give your eyes extra support and protection. It contains numerous well-researched ingredients such as patented Lutemax®2020, Forskolin and Rutin that enhance macular pigment density and promote better blood circulation around the eyes. Intensified with Xpert Nutri-Eye™, eye structure and retinal are further nourished to relieve you from everyday eye stress!
Benefits

- Promotes healthy eyes & vision

- Relieves eye fatigue & dryness

- Protect eyes from harmful UV rays & free radicals

- Strengthens healthy eye functions
Ingredients

Lutemax®2020 (Lutein, Zeaxanthin), Xpert Nutri-Eye
(Pine Bark Extract, Rosemary Extract, Hesperidin), Forskolin, Rutin, Taurine, Vitamin B1, Vitamin B2, Copper, Zinc
Direction of use

Take 2 softgels daily after meals.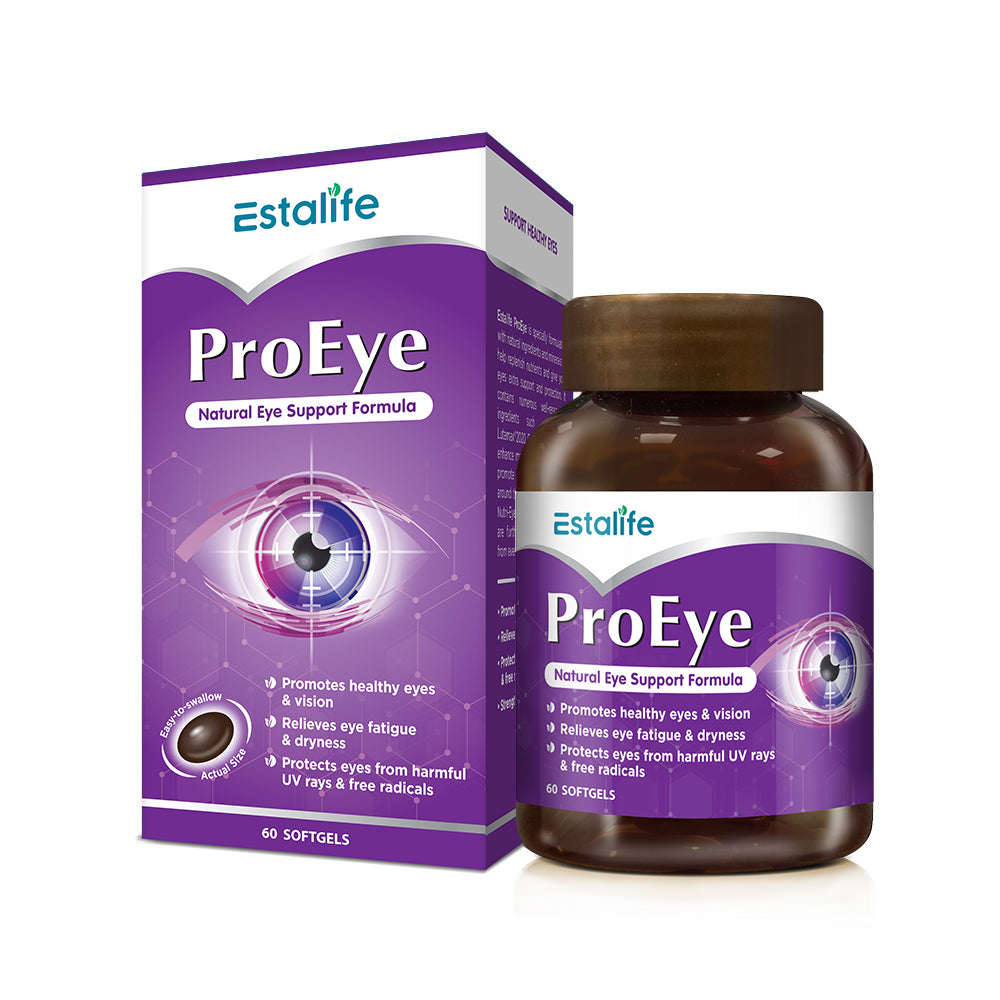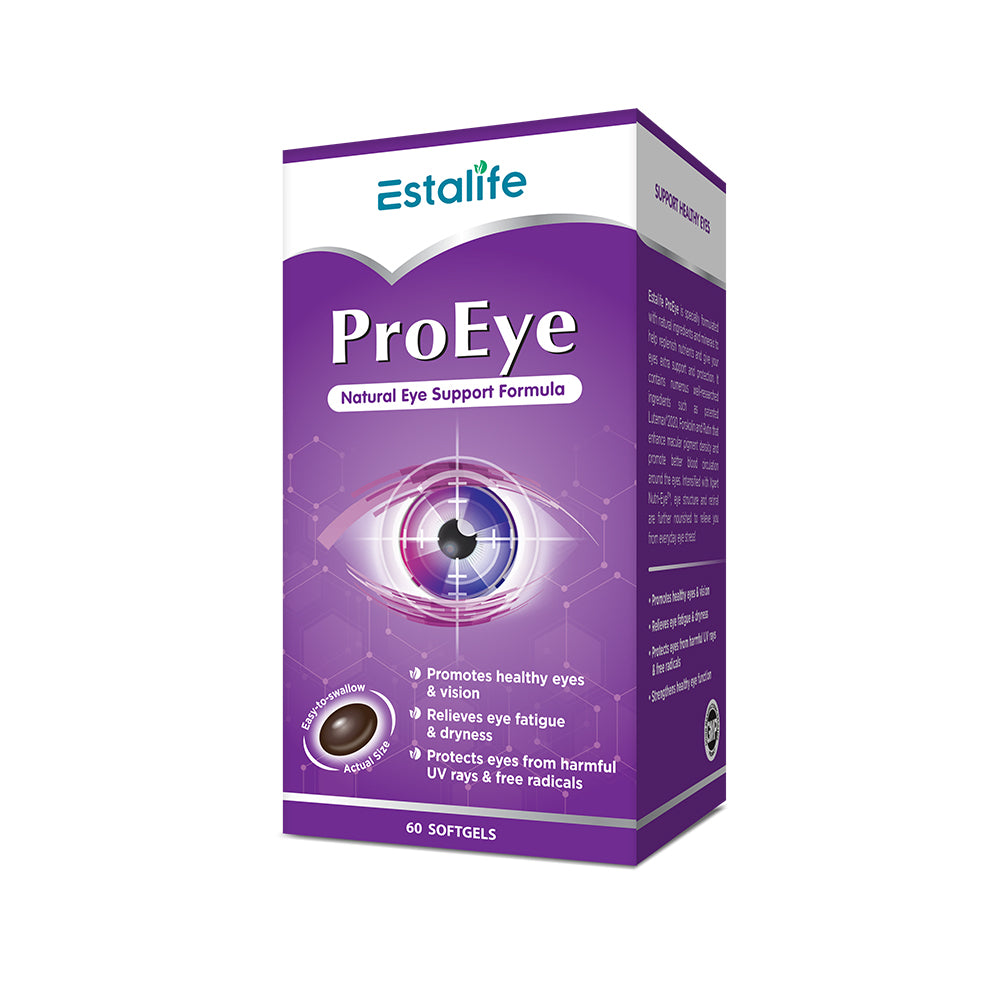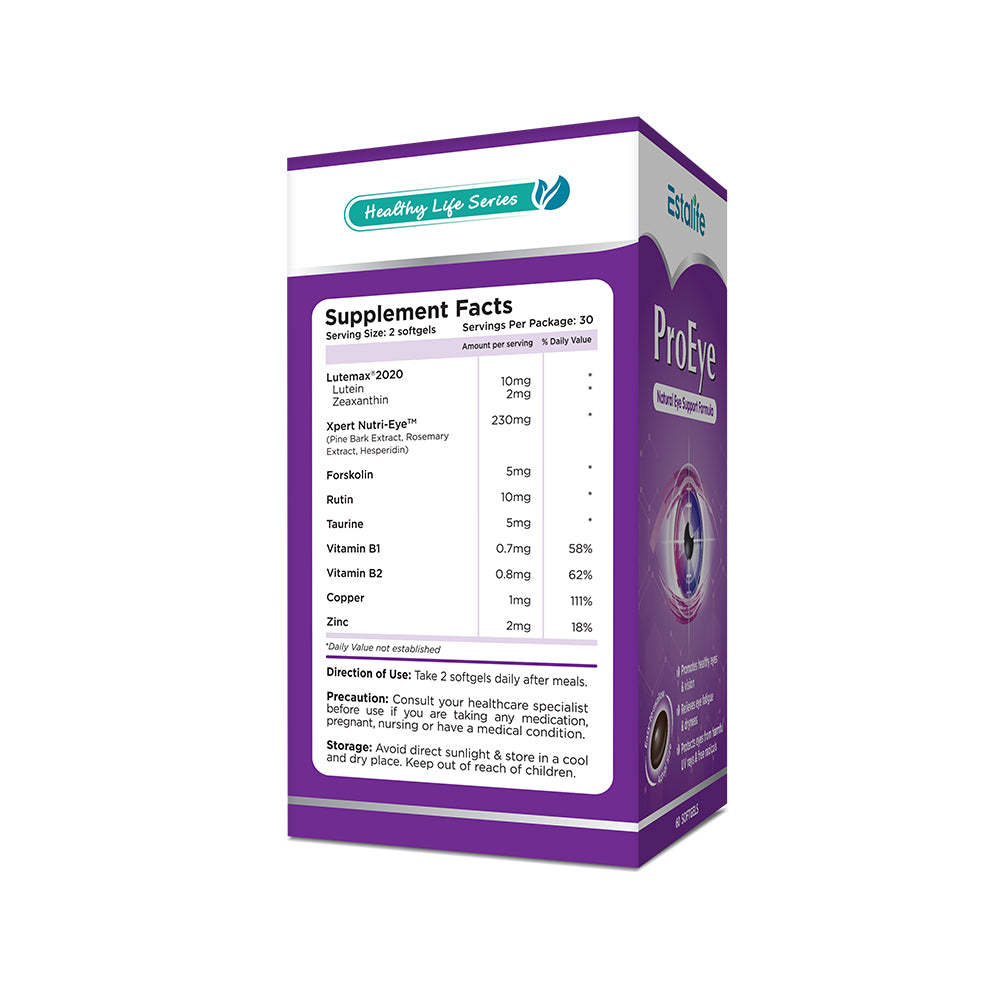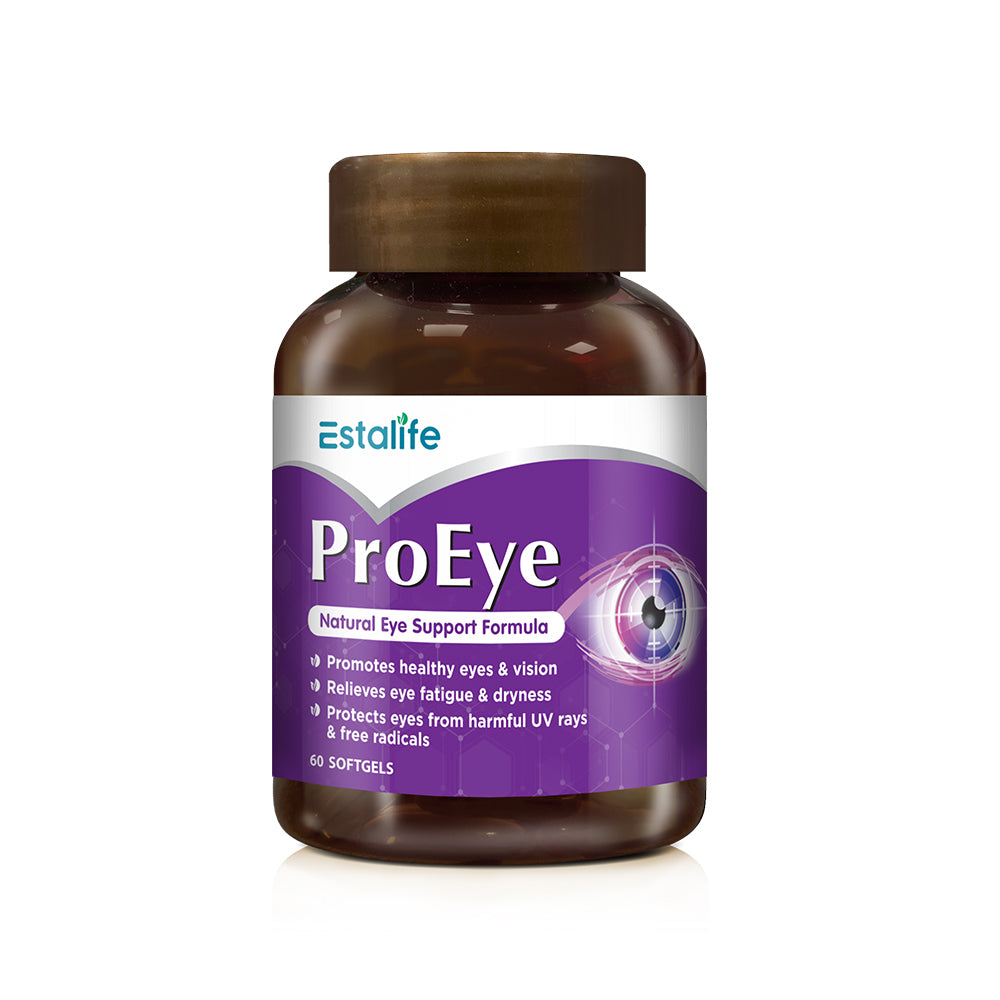 BEGIN YOUR JOURNEY
TO BETTER VISION WITH PRO EYE
Relieves


eye fatigue & dryness
Maintains


sharp eyesight
100% Natural


Herbal Extracts
Easy-to- swallow
softgel
Made in USA
HUMAN EYE IS THE
MOST IMPORTANT SENSORY ORGAN
Maintaining our eyesight is vital for connecting with our surroundings, staying safe, and improving our quality of life.
Have you Experienced any of
these symptoms?
In the beginning, there was simply some discomfort in the eyes...
Eye dryness
Fatigue
Poor night vision
Blurry vision
Age-related eye degeneration
Sensitivity to
light or glare
Seeing light flashes,
dark spots or
rainbows around light
Sudden vision
loss in one or
both eyes
Lack of Eye Nutrition Can Have
Long-Term Vision Consequences
There are several eye problems that are more common among people as they age, although they can affect anyone at any age.
Professional Formulas
for Effective Eye Care
Optimize the raw materials for you to control the source
LUTEMAX® 2020
Lutein+Zeaxanthin are the powerful antioxidants and carotenoids naturally present in the macular region of the retina.
Protect the eyes from free radicals
Support macular pigment density and visual acuity
Help to block UV rays and harmful blue light
Reduce the risk of light-induced oxidative damage that can lead to age-related macular degeneration (AMD) and cataract.
Supplement Facts
Serving Size: 2 softgels

Table header 1

Serving Per Pack: 30

Amount Per Serving

% Daily Value

Xpert Nutri-Joint™
(Fish Oil, Safflower Oil, Rosehip Extract)

822mg

*

Undenatured Type II Collagen

40mg

*

Hyaluronic Acid

20mg

*

Red Ginger Extract

10mg

*

Vitamin D

600IU

75%

* Daily Value not established.
5 Reasons
to Choose ProEye
1. Softgel for Enhanced Stability
Lutein, an easily oxidized nutrient, is highly affected by factors such as temperature, light, oxygen, and preservatives during storage, as revealed by research. By using softgel x, the nutrient is protected from air exposure and preserved in its effective form.
2. Easy-to-swallow softgel
Smaller than common Eye care supplements.
(softgel made from gelatin)
3. Optimal ingredients for maximum absorption potential
Providing Your Eyes with Essential Nutrition
4. Natural & Herbal Eye Care
Concentrated Extracts for Optimal Results
5. Made in USA
Superior Quality with Higher Concentration & More Purity
Protect Your Vision
from Everyday Hazards
Take 2 softgels daily after meals
Student
Extended reading can cause eye fatigue
Computer Vision Syndrome
Staring at computer screens can strain the eyes
Heavy mobile phone users
Frequent phone use or using phones in the dark can strain the eyes
Middle-aged & elderly people
Maintaining sharp eyesight and reducing the risk of age-related eye conditions
Discover a More
Beautiful World with ProEye

Promotes healthy eyes & vision

Relieves eye fatigue & dryness

Protect eyes from harmful UV rays & free radicals

Strengthens healthy eye functions