ESTALIFE® FEMININE FLORA PROBIOTICS
Regular price
$49.00 SGD
Sale price
$49.00 SGD
Unit price
per
Sale
Sold out
Product Info

Estalife® Feminine Flora Probiotics contains a fine selection of FemiBiome™ Probiotics, Pomegranate Extract & Cranberry Extract to provide long-term intimate care protection & support urinary tract health. The live probiotic strains are well-protected via MCM-LAB® Encapsulation Technology to ensure the highest survival rate and stability. Take one capsule a day to maintain good feminine hygiene.
Benefits

- Helps balance microflora & pH balance
- Supports urinary tract & vaginal health
- Improves female hygiene
Ingredients

FemiBiome™ Probiotics (Lactobacillus plantarum, Lactobacillus reuteri, Lactobacillus rhamnosus, Pediococcus acidilactici), Botanical Proprietary Complex (Cranberry Extract, Pomegranate Extract)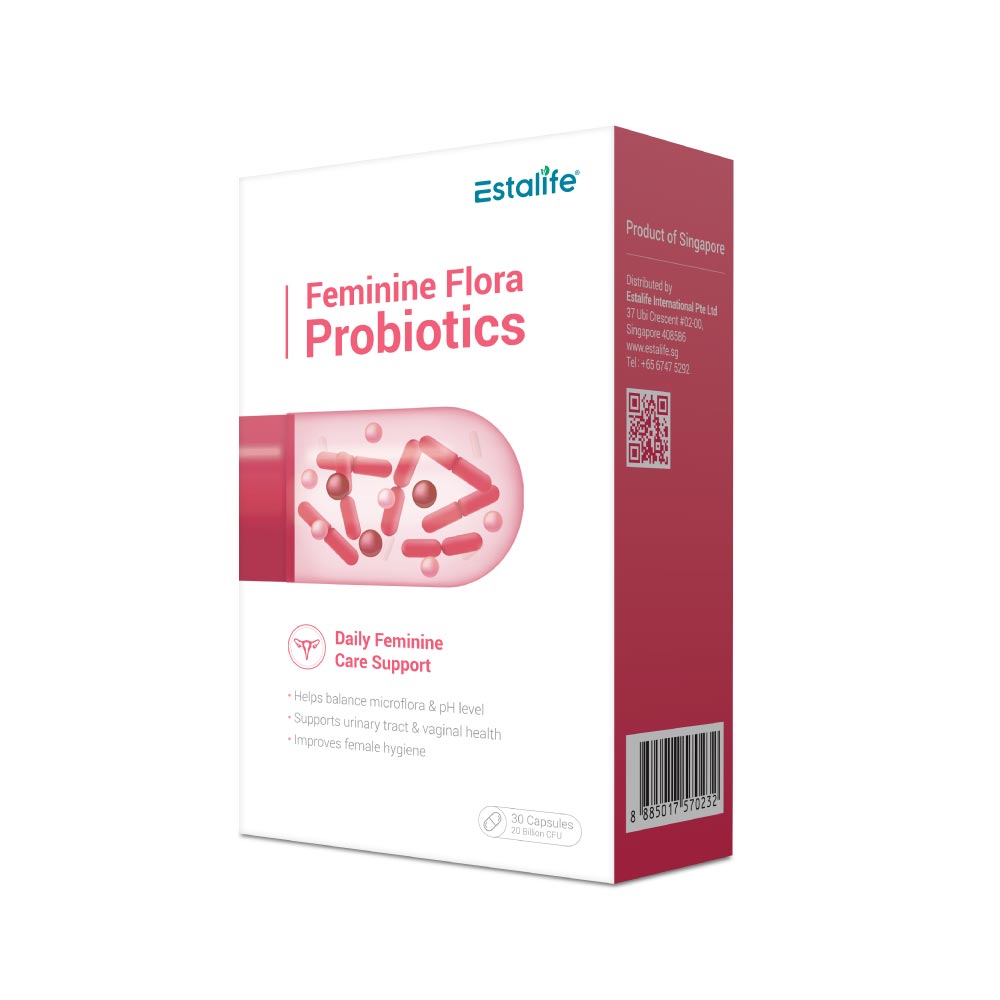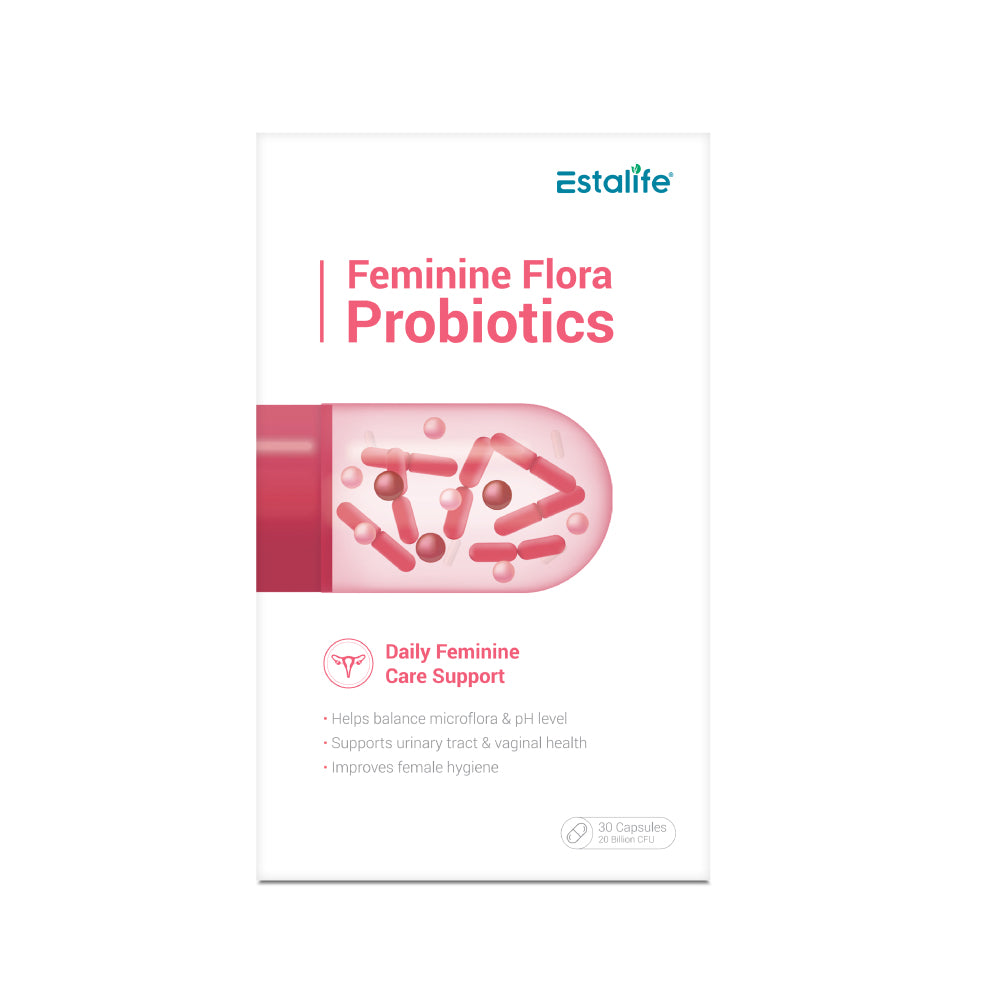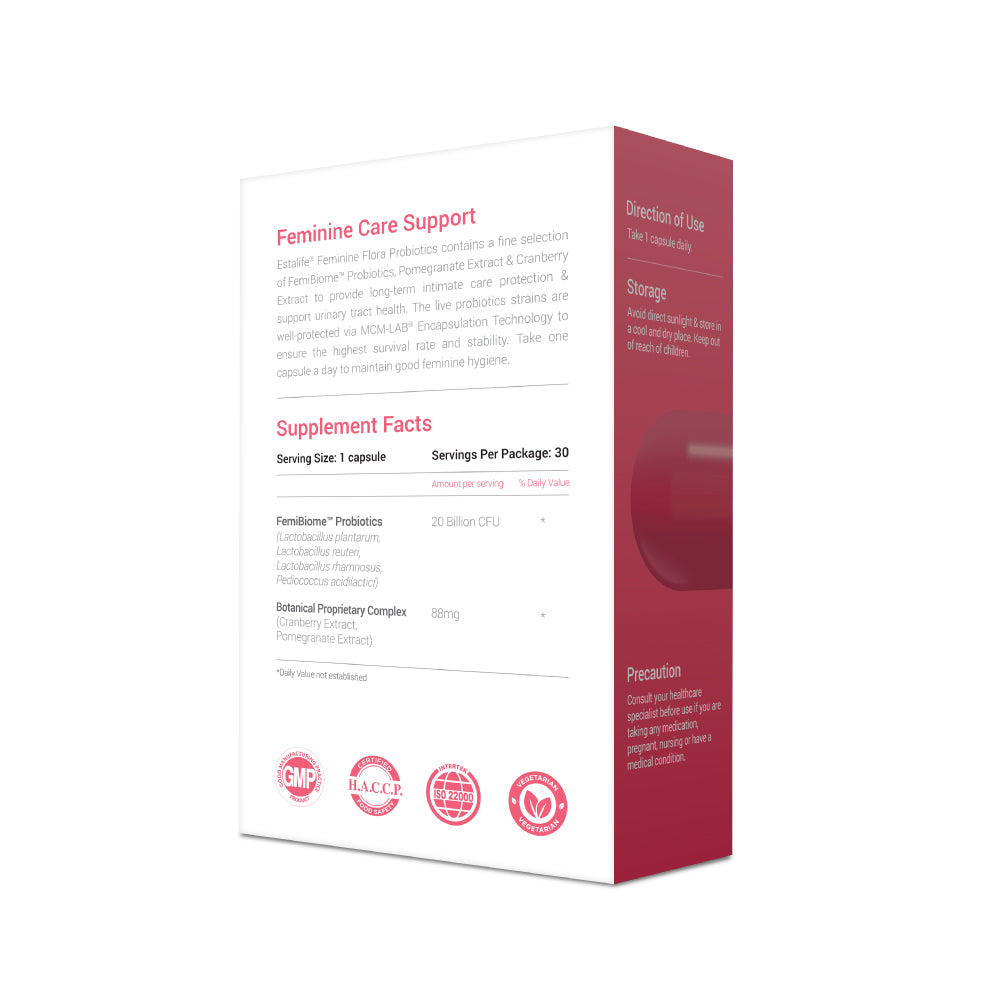 DAILY FEMININE
CARE SUPPORT
Prevents
recurrence of infection
Supports
urinary tract health
Supports
vaginal health
Restores
normal vaginal
pH Level
Helps
balance microflora
URINARY TRACT HEALTH SUPPORT
URINARY

TRACT
HEALTH SUPPORT
Why is it important to
take care of

feminine health?
According to World Health Organization (WHO)'s statistics, every 4 out of 10 Asian women are diagnosed with various gynaecological issues, which may lead to other health complications, and even affect your relationship with your loved ones.
40%-50%
of women will experience at least 1 episode of urinary tract infections (UTI) during their lifetimes
Foxman (2003)
Foxman B. Epidemiology of urinary tract infections: incidence, morbidity, and economic costs. Dis Mon. 2003;49(2):53-70.
Sign & Symptoms of


Poor Feminine Health
Itching of the
female intimate part
Pain or burning
during urination
Foul or
Fishy smell
Abnormal amount,
colour or texture
of vaginal discharge
Cloudy or strong
smelling urine
Risk Factors of


Poor Feminine Health
Poor feminine
hygiene
Incomplete bladder emptying
Holding urine
for long time
Unprotected sex
Douching or washing
with strong soap
Diabetes or a
pre-diabetic condition
Pre- & Post-
Menopause
Sexually transmitted
infections (STIs)
FemiBiome™ Probiotics


Consists of 4 Strains of Probiotics
FemiBiome™ Probiotics
FemiBiome™ Probiotics are well-preserved via patented MCM-LAB® technology to optimise its survival rate, viability & efficacy.
How Do Probiotics Work To


Improve Feminine Health?
Lactobacillus are the most dominant probiotics in vaginal of healthy women
As a barrier to infection by producing antimicrobial compounds to inhibit pathogens from invading (Borges, 2014).

Lowers the acidity of vaginal and urinary tract by producing lactic acid to minimize growth of harmful bacteria

Competes with harmful yeast and bacteria for food and space to inhibit their growth
A study done by Reid et al. in 2008 concluded that

"Lactobacillus rhamnosus and reuteri not only reduce the number of pathogenic bacteria and yeast that reach the vagina from the anal-rectal area, but they also populate the vagina and displace pathogens that cause vagina infections and UTIs."
Borges (2014). The role of lactobacilli and probiotics in maintaining vaginal Health. Archives of Gynecology and Obstetrics, 289:479–489 Reid (2008). Probiotic Lactobacilli for Urogenital Health in Women. Clinical Gastroenterology, 42 (3), 234-236.
Your Fuss-Free Solution


for Ultimate Comfort
Supports
vaginal health
Restores
normal vaginal
pH Level
Helps
balance microflora
Supports
urinary tract health
Prevents
recurrence of infection
Take 1 capsule,


1 time daily after meal