ESTALIFE® OMEGA-3 DHA FISH OIL
Regular price
$46.30 SGD
Sale price
$46.30 SGD
Unit price
per
Sale
Sold out
Product Info

A natural source of omega-3 essential fatty acids, eicosapentaenoic acid (EPA) and docosahexaenoic acid (DHA) which play an essential role in maintaining healthy heart, brain, eye, joints and skin. Small and easy-to-swallow softgel enable you to enjoy a stress-free healthy lifestyle.
Benefits

- Supports Healthy Heart, Brain, Eye, Joints and Skin
- Supports Cholesterol & Immunity Health
Ingredients

Fish Oil (containing 18% EPA, 12% DHA)
Direction of use

Take 2-3 softgels, 2 times daily after meals.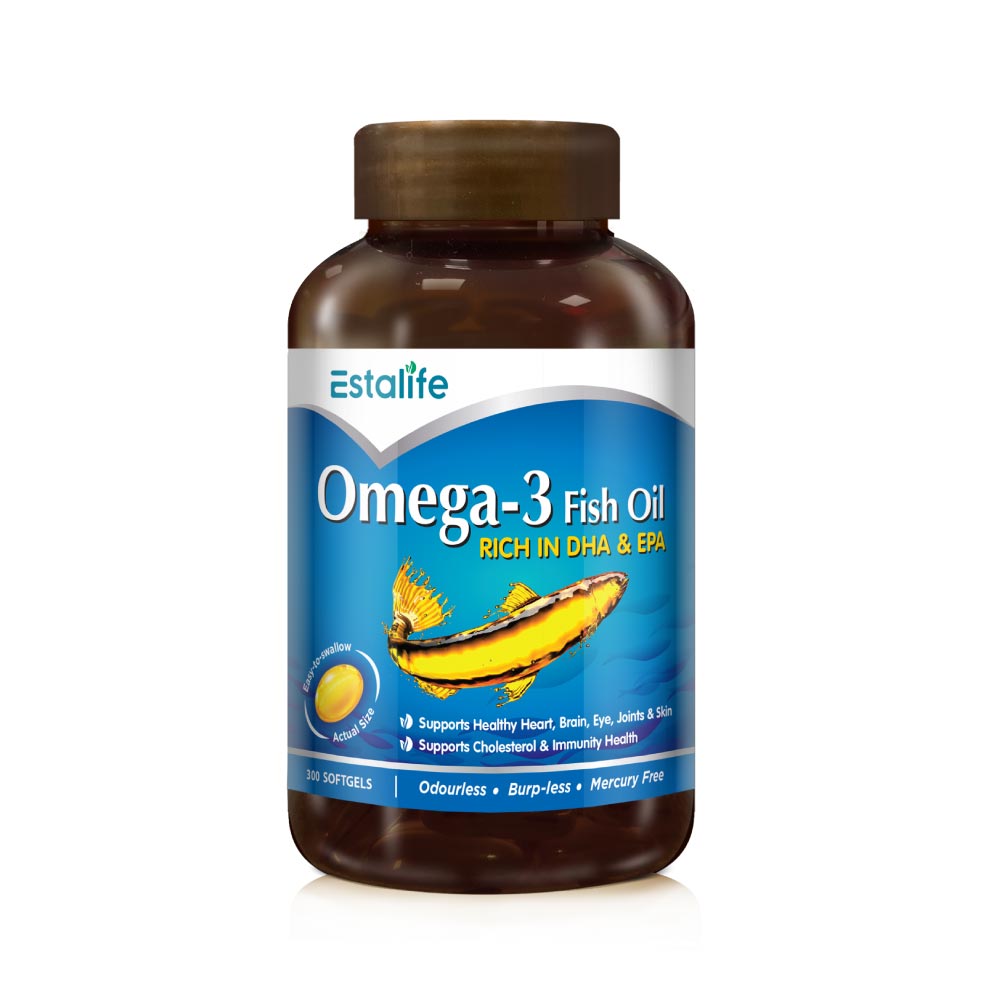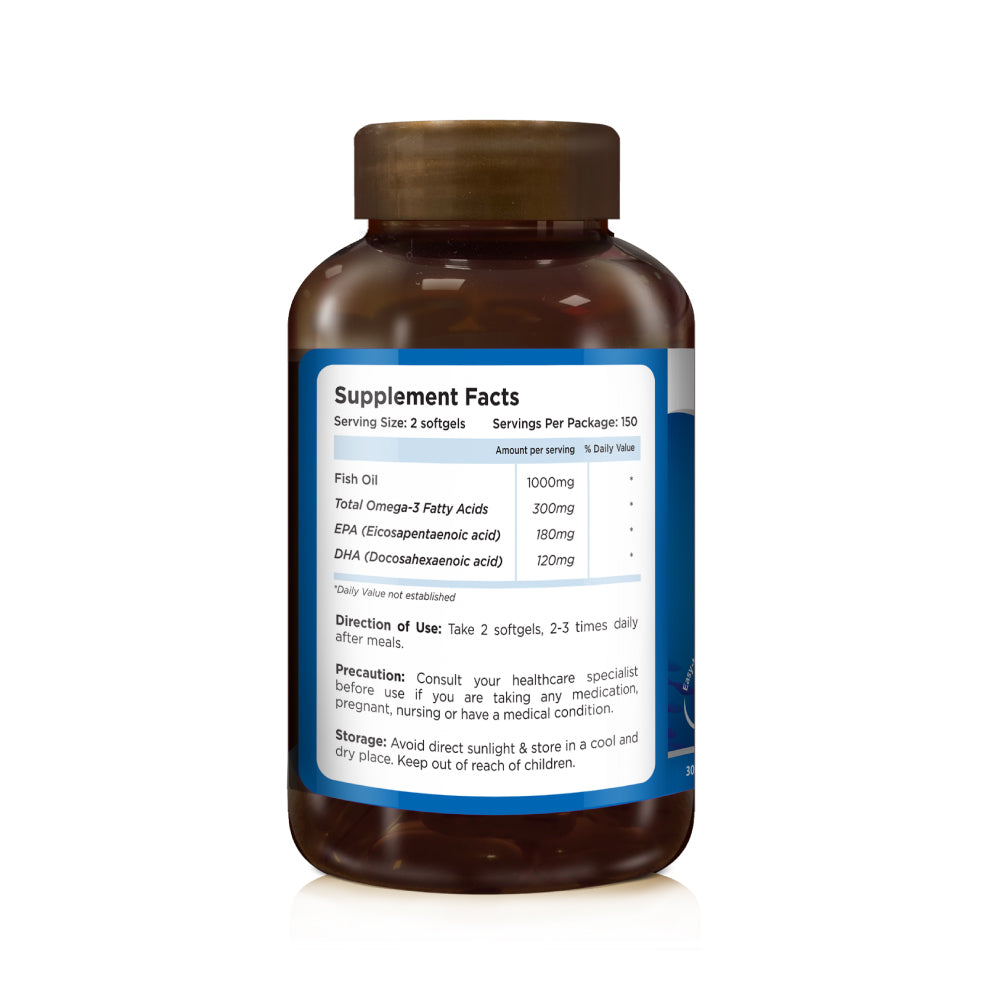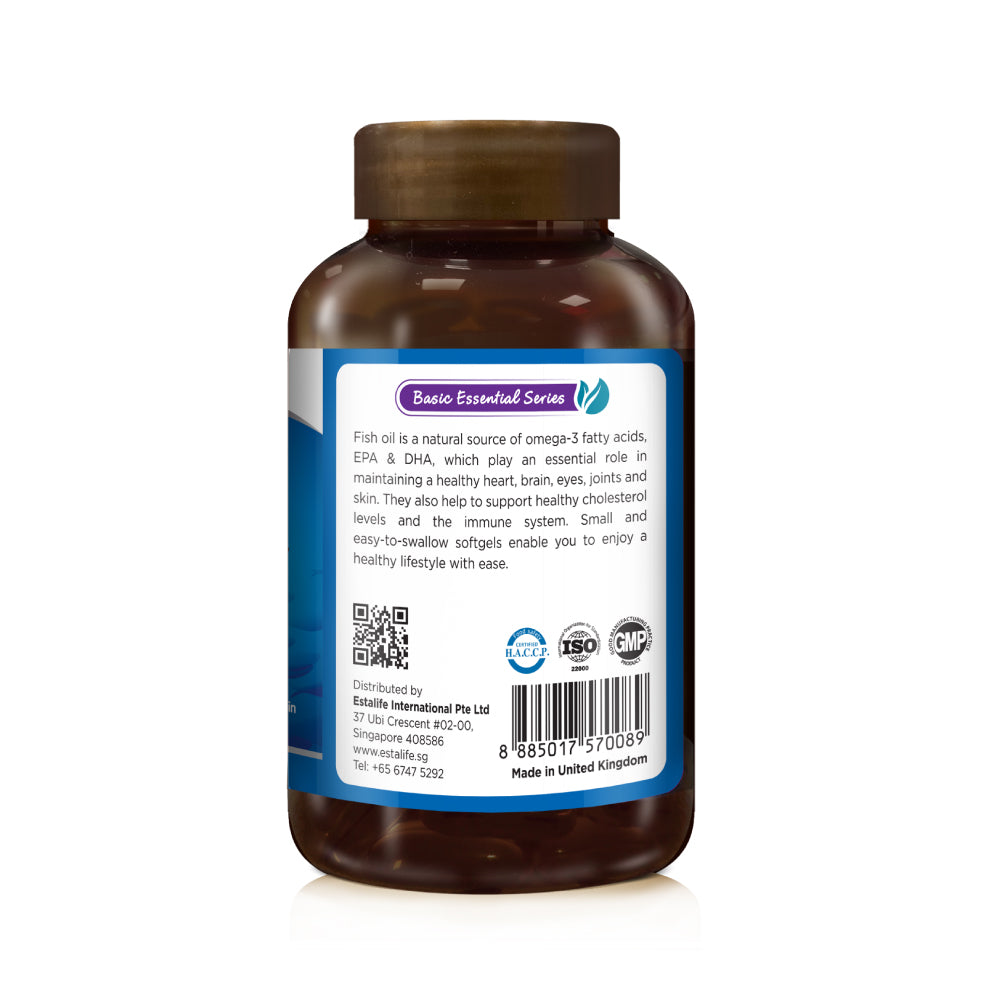 1ST SMALL SIZE FISH OIL


IN THE MARKET
Supports
brain development
Supports


cardiovascular system
Supports


cholesterol health
Supports
visual development
Supports
immune system
What are FATS?
Fats are substances that help the body use some vitamins and keep the skin healthy.

They are also the main way the body stores energy.

In food, there are many types of fats : saturated, unsaturated, polyunsaturated, monounsaturated, & trans fats.
Saturated Fat


Use Sparingly
Most saturated fats are animal fats.
They're found in high-fat meats and dairy products. Most of them are solid in room temperature. Eating too much saturated fat can increase blood cholesterol levels and low-density lipoprotein (LDL) levels.
Omega-3
Fatty Acids
Not all fats are unhealthy.
Omega-3 fatty acids are one of the "good" types of fat. Omega-3 fatty acids come in more than one form. The types found in fish, called DHA and EPA, seem to have the strongest health benefits.
Trans Fat


Must Avoid!
Why Trans fat are bad?
Raise LDL cholesterol, also known as "bad" cholesterol. Suppress high-density lipoprotein (HDL) levels, or "good" cholesterol.
Coronary Artery Disease
Also known as coronary heart disease (CHD) or ischemic heart disease (IHD)

Develops when the major blood vessels that supply your heart with blood, oxygen and nutrients (coronary arteries) become damaged or diseased. Cholesterol deposits in arteries and inflammation are usually to blame for coronary artery disease.

When plaque builds up, it narrows your coronary arteries, decreasing blood flow to your heart. Eventually, the decreased blood flow may cause chest pain (angina), shortness of breath, or other coronary artery disease signs and symptoms. A complete blockage can cause a heart attack.
Case study 1
Japanese smokers vs American smokers
Case study 2
Japanese vs American eating behaviors
1ST SMALL SIZE FISH OIL


IN THE MARKET
Suitable for individuals at

high risk of cardiovascular disease, memory, vision problem & weak immunity
Softgel format
Easy-to-swallow
Size Oval 10 (small)
FINEST INGREDIENTS

OF FISH OIL
DHA
Reduces Heart Disease Risk

Fights Inflammation

Lowers Blood Pressure & Supports Circulation

Aids in Normal Brain & Eye Functions

Help Protect Mental Health
EPA
Helps in heart-related conditions

Reduce levels of blood triglycerides & LDL cholesterol

Supports mental conditions

Reduce symptoms of menopause
HEALTH BENEFITS


OF OMEGA-3 FISH OIL
Healthy Heart, Happy Life
Rich in EPA & DHA
Burp-less
Mercury free
Low reflux
Made in UK
Source: Alaska Tuna